Mukesh Dhirubhai Ambani was Born on 19 April 1957. He is an Indian billionaire businessman. He comes in the top 10, richest men in the world. Mukesh's father is Dhirubhai Ambani and his mother Kokilaben Ambani. he also has a younger brother his name, Anil Ambani. He has two sisters Nina Bhadrashyam Kothari and Dipti Dattaraj Salgaocar. Mukesh Ambani's wife is Nita Ambani, their son name is Akash Ambani, and Anant Ambani and daughter Isha Ambani.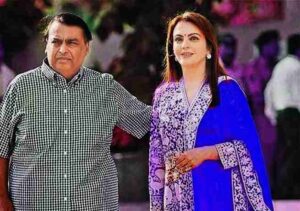 Mukesh Ambani.
bio in short.
Full Name
Mukesh Dhirubhai Ambani
Nationality
Indian.
Date of Birth

19 April 1957.
63.(as on 2020)
Caste
Gujarati
Father

Mother

Brother

Wife

Sister


Son

Daughter
Dhirubhai Ambani.

Kokilaben Ambani.

Anil Ambani.

Nita Ambani.

Dipti Dattaraj Salgaocar
And Nina Bhadrashyam Kothari.

Akash Ambani and Anant Ambani.

Isha Ambani
Education
BE degree in Chemical Engineering.
Net worth
8,050 crores USD(as on 2020)
Early Life of Mukesh Ambani
In Yemen, Mukesh Ambani Lived, Because his father decided to move India, in 1958.
Then he started a Trading Business
Also Later he focused on Spices and Textiles.
It was originally named "VIMAL" but later changed to ONLY "VIMAL".
His family lived in Bhuleshwar Mumbai Until the 1970s. when they moved to India.
Ambani's Financial Status Improved but still, he used public transport and lived in a communal society.
Later Dhirubhai purchased a 14-floor apartment known as sea wind in Colaba, Where he lived with his brothers.
Mukesh Ambani Education
He studied at Hill Grange High School at Peddar Road, Mumbai along with his brother.
After he completed his secondary education he went to St.Xaviers college Mumbai  From the institute of chemical technology he received,
BE degree in Chemical Engineering.
After receiving the degree he went to
Stanford University to study MBA
But withdrew in 1980 to help his father built Reliance.
At that time, Reliance was not so big but it was a fast-growing enterprise.
His father always used to think that real-life skills are most important and valuable in our life rather than sitting in the classroom so he called back his son to India to take command of a manufacturing project in his company.
He was influenced by his teachers Man Mohan Sharma and William F Sharpe because they taught him to think out of Box.
 Ambani's Reliance Industries Limited and Net worth.
In the year 1981, he started to help his father to run their family business, which was already expanded it also dealt with Petrochemical and Refining.
They also included products and services in Retail as well as in telecommunication Industries.
 In India, Reliance Retail Ltd is the largest retailer.
 Reliance Jio is among the top five in the country telecommunication services.
Ambani was ranked 38 in the year 2016 and for the past 10 years held the title of Indias richest person in Forbes magazine list.
In Forbes list of the worlds most powerful people he is the only Indian Businessman
In, the 18th wealthiest person in the world Mukesh Ambani was ranked, in January 2018.
he also surpassed Jack Ma to become Asia's richest person.
In July 2018 his net worth was $44.3 billion.
Among India's philanthropists according to china's Hurun Research Institute, he ranked 5th in the year 2015.
He became the first non-American to be a Director of Bank of America.
He is the founder of the Indian super league, a football league in India.
Mukesh also owns the franchise Mumbai Indians.
Ambani was also named as one of the richest sports owners in the world.
Mukesh Ambani House.
He lives in Antilia which is the world's most expensive house with its value reaching $1billion. Which is the most expensive private residence in the world it has 600 staff for maintenance it also has 3 helipads, a private movie theater, a swimming pool, a 160-car garage, and the fitness center.
 Personal Life of Mukesh Ambani.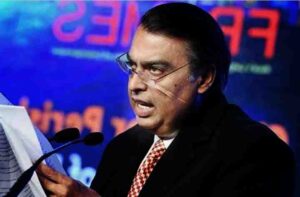 • In the year 1985, he married Nita Ambani they both have two sons, Akash and Anant, and a daughter Isha.
They met each other at a dance performance and thought of the idea of arranging their marriage.
Mukesh Ambani house price
• Mukesh Ambani lives in a private 27 storey building in Mumbai.
 The value of their house is US$1 Billion.
• In the year 2007 Ambani gifted Airbus A319 worth $60 million for her 44th birthday.
• He is "The World's Richest sports team owner " as in 2008 he purchased the IPL team Mumbai Indians for $111.9 million.
Mukesh Ambani's favorite food is idli sambar and his favorite restaurant is Mysore cafe as he used to eat as a student.he is also a strict vegetarian.
He loves to watch Bollywood movies he watches three a week because he says we all need some amount of escapism in life.
A court in Mumbai held his brother, Anil Ambani for not paying the payment of debt Reliance Communications owned to Swedish gear maker Ericsson in early 2019.
Mukesh bailed out his younger brother Anil Ambani.
Mukesh Ambani Car Collection
 Bentley continental flying spur, Worth Rs 3.69 crore.
Rolls Royce Phantom, Worth Rs 4 crore.
Aston Martin Rapide, Worth Rs 3.88 crore.
Mercedes -Maybach Benz S660, Worth Rs 10.50 crore.
Rolls Royce which is 7.6 crore.
Armoured BMW 760, Worth Rs 8.50 crore.
Mercedes Maybach, Worth Rs 5.15 crore.
Charity of Mukesh Dhirubhai Ambani.
Charity work done by Mukesh Ambani is larger than our everyone's imagination, as he comes top 10 richest men in the world.
The charity work of the Mukesh Ambani is larger than the majority of the people's lifetime earning as big as his business empire is the same he does the charitable work.
He reportedly topped the list as India's most philanthropist in the year 2018 with a whopping 437 crore as per the Hurun.
He does all the charitable activities under the Reliance Foundation
Mukesh Ambani and Nita Ambani always reach out to the government For various social causes,
Sports and education for these two things they have done lots of charitable work.
When everyone was shocked after the Pulwama attack  Mukesh Ambani announced his donation and also extended services for the martyr families.
Also under his foundation, he is providing medical care, education, to all the family members of jawans.
Mukesh Ambani is the big reason for the internet facilities that have reached everywhere in the country for example jio's free internet.
Ambani
Mukesh Ambani opted for a mid-size eco-friendly wedding of his son instead of spending a huge amount on the lavish wedding and created an example for all.
Once he said in an interview that his main motive is to provide more employment to people and help society, this is what Mukesh Ambani has done.
He is always ready to help.
He also donates to different NGO's and also fulfills whatever their need is.
Mukesh Ambani has more than 187,729 employees working for him, Kudos to such a generous person.
Board Membership
President Pandit Deendayal Petroleum, University, Gandhinagar, Gujrat.
Former Director Member of Credit Committee and Member of Compensation and Benefits Commitee Bank of America Corporation.
Reliance Exploration and Production DMCC, Chairman.
Chairman of Audit Commitee, Reliance Retail Limited.
Former Chairman of Indian, Petrochemicals Corporation Limited.
Member of   Employees stocks compensation commitee Reliance Industries Limited.
Member of the Board of Governors Institute Of Chemical Technology, Mumbai.
Chairman, Managing Director of the finance committee.
Reliance Petroleum board, Chairman.
Former vice-chairman Reliance Petroleum.
Read more: