Mukesh Khanna is an Indian Actor, born on 19 June 1958 in Mumbai. He has completed his Acting Course From FTII. We have seen him on Tv Show and Movies. His role as Bhishma Pitamah in Mahabharat and the role of Shaktimaan, in that he was an Indian Super Hero, which use to forecast on Doordarshan channel from 13 September 1997 to 27 March 2005.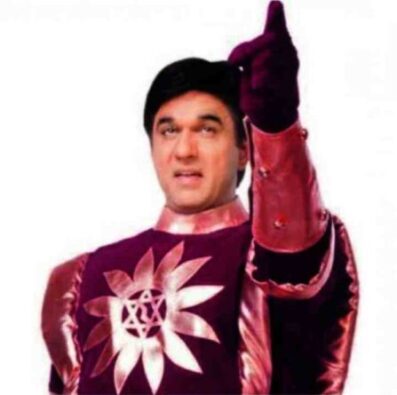 Mukesh Khanna (Shaktimaan)
bio in short.
Nationality
Indian.
Date of Birth
Age
19 June 1958.
62(as on 2020)
Height
Feet 6.1
Meter 1.85 M
Centimeter 185 CM
Caste
Hindu.
Brother

Father
Mother
Wife
Son
Daughter
Sister
Ved Khanna.

Na.
Famous as
Actor.
Education
Acting Cource From FTII.
Net worth
50 Lakh Approx(as on 2020)
Interesting facts of Mukesh Khanna
Mukesh Khanna Played the role of Bhishma Pitamah in Mahabharat and India's first superhero "Shaktimaan".
Bhishma Pitamah's role became one of the popular characters in Mahabharat.
He was just 30 years old when he portrayed this role in Mahabharat.
Later when shaktimaan came in the year 1997 Mukesh Khanna became more popular in India.
Where ever Khanna meets children they request him to show his torpedo flying power.
After the success, Mukesh Khanna went on to make a telefilm "HAMARA HERO SHAKTIMAAN".
Apart from Mahabharat and Shaktimaan Mukesh Khanna has done popular shows like "Chandrakanta" (1994-1997).
Aryaman – Brahmaand ka Yodha which was in the year (2002-2003)in which he played the role of Aryamaan/Ojwan.
In  1998, he joined BJP Party.
He is the man of principal who dont like to smoke or else he has not even consumed alcohol in his life he is the one who motivates each and every generation by his work
Mukesh Khanna was the chairman of children's film society, in 2015.
He also owns a production company and runs acting schools in Mumbai, Agra, Jaipur, and Chandigarh, "Bheeshma Productions" is the name of the production company.
NetWorth
50 Lakh Approx(as on 2020). This is an estimated income, he has never revealed his real income.
Controversy
After watching the Shaktimaan serial, kids used to copy him, most of the kids get injured by doing so.
Shaktimaan Serial
Video Source
The character Gangadhar is completely opposite to that of shaktimaan in each and every aspect.
Like his appearance is very simple also he speaks pure Hindi.living simple in the society as a common man helps him to get knowledge about the crime.
Gangadhar got the job of a photographer for the newspaper AAJ KI AWAAZ.
Geeta Vishwas interviewed him.
After a few days, he became a co-reporter working with Geeta. later Geeta came to know about the dual identity of Shaktimaan.
Gangadhar became a professor, later he left that job and joined the news channel with Geeta.
Shaktimaan Serial Craziness
Shaktimaan craze was so extreme that people use to stick to the television and students use to bunk their classes to watch their superhero "Shaktimaan".
The character has not just become entertainment for the youngsters but also it was a moral guide to them.
Children use to drink milk on the advice of Shaktimaan.
After completing fifteen episodes of Shaktimaan, it becomes a popular show in India,
Mukesh Khanna used to get fifty thousand letters every week.
They show love not only by kids but each and every generation use to love that show.
Fans were disappointed after watching the Last episode of Shaktimaan.
later it again hit on the screen during the period of Lockdown.
Powers of Shaktimaan (Mukesh Khanna)
Video source
Shaktimaan uses to worship God by saying Om truthfulness helpful humbleness is his motto. Also, he can separate his body into five different things fire, water, earth, sky, and wind.
He was a very intelligent and skilled fighter.
He had powers like unlimited speed, lots of strength also he had psychic powers like telepathy, teleportation, etc.
As everyone has some weakness so the only weakness for Shaktimaan was a crystal possessed by Tamraj kilvish which not only can defeat shaktimaan but also kill him.
This crystal makes him powerless because it is filled with the Evils which is the source of the black power.
But his strength can be regained by taking away the crystal from them.he also gets to know the incidents going to took place in the future.
Shaktimaan power is limitless he can do anything that he can imagine.
But the only limit for his power is his own belief in himself. All the powers come from chakras.
The seven chakras of Shaktimaan
ENERGY CHAKRA: This Chakra gives Shaktimaan a power of super strength to fly, shoot fire, from his hand he has so much power that he can lift anything.
CREATIVE CHAKRA: This Chakra gives him the power to lift things out of the air which can be very thin.
ASTRAL CHAKRA:  This Chakra gives Shaktimaan power to walk through the wall, also he can fly anywhere, also he can see inside objects, etc.
HEART CHAKRA: This chakra gives shaktimaan power to control others but he can do only for good things.
VIBRATION CHAKRA: This chakra gives shaktimaan power to control each and every type of vibrations, including light waves, sound waves, etc ultrasonic sound can also be heard by this chakra and can speed up a vibration of his own atom which can be very useful in the dangerous situation to get out from it.
PHYSIC CHAKRA:- This chakra gives him the power of a third eye because of this he can read the mind and can see any part of the world at any distance he can also sense danger and can also see the things at any corner.
Instagram
He is a socially active person. He loves to share his pictures and videos on Instagram.
Followers: 73k
Following: 0
Posts: 92.
Youtube
He is a socially active person and loves to shares his videos on YouTube
Channel Name: Bheeshm International
Subscribers: More than 680K
He has more than 5 core views on his Youtube Channel.
Read More: